Gun Safe
Vaultek VT20i Series
Free Standard Ground Shipping
***This product ships from another warehouse location and some models are available at our retail store. Please call our retail store for local availability. We will ship within 1 business days.

Free Standard Ground Shipping
Vaultek VT20i Series - ( W/ FINGERPRINT SCANNER )
The perfect safe for on the go security or fortifying your nightstand. The VAULTEK VT20i is slim enough to slide under a car seat or travel coast to coast through security checkpoints. Meets TSA airline firearm guidelines. This TOUGH AND RUGGED smart safe is great for the range raiding pistol hauler. Easily portable or anchored using supplied mounting hardware and 4 foot long HEAVY-DUTY 5MM DIAMETER STEEL SECURITY CABLE. Designed to safeguard personal valuables and firearms, the strong 16-gauge steel body is PRECISION ENGINEERED to defend what matters to you. Anti-pry bars prevent tools from breaking in. Interior hinges can not be breached from the outside. Two point anti-impact latches resist forceful impacts. Vaultek safes are on a mission to keep your belongings protected. Integrated powerful SMART TECHNOLOGY raises personal security to a new level. High-resolution Biometric FINGERPRINT SCANNER can store up to 20 different user IDs and offers secure accurate access. Remotely access the safe using the VAULTEK BLUETOOTH APP from your smartphone and view safe history, detect tampering, plus much more. Built-in ADJUSTABLE INTERIOR LED LIGHT provides high visibility of your items in the dark. The backlit keypad illuminates via proximity sensor making it easy to navigate at night and features several hot key entries including toggling the sound on/off for stealth mode. Long lasting RECHARGEABLE LITHIUM-ION batteries keep you powered for months, and only needs 2.5 hours to recharge using the included micro-USB charging kit. Makes a great gift for guys and girls, shooters and jewelers, looking to keep personal belongings safely secured and out of the wrong hands. U.S. PATENT PENDING
UPGRADED ANTI-THEFT PROTECTION features anti-pry bars, two point anti-impact latches, interior mounted hinges, and NEW interior security brackets for the ultimate prevention against break-ins. Available with the entire Vaultek product line up including the new VT10i.

TOUGH AND RUGGED heavy-duty 16-gauge carbon steel construction with a durable powdercoat finish preventing corrosion and ensures long lasting protection of your belongings for years to come.

QUICK ACCESS to your valuables, documents, and firearm(s) from the automatic opening door. Get in quick when it matters most using the rapid fire backlit keypad or biometric fingerprint scanner.

SMART SAFE TECHNOLOGY uses the Vaultek Bluetooth App for a highly interactive experience from your smartphone. View battery status, adjust the brightness of the interior light, unlock the safe remotely with one simple swipe, and more. A Rechargeable lithium-ion battery provides power for 4 months, and charges in 2.5 hours with the included micro-USB charging kit.

RESPONSIVE LED LIGHTING in low light situations so you can locate your safe with the backlit keypad and easily view your safe contents with an adjustable interior LED light.
Exterior Dimensions: 11.5" x 9.0" x 2.75"

Interior Dimensions: 11.0" x 5.75" x 2.0"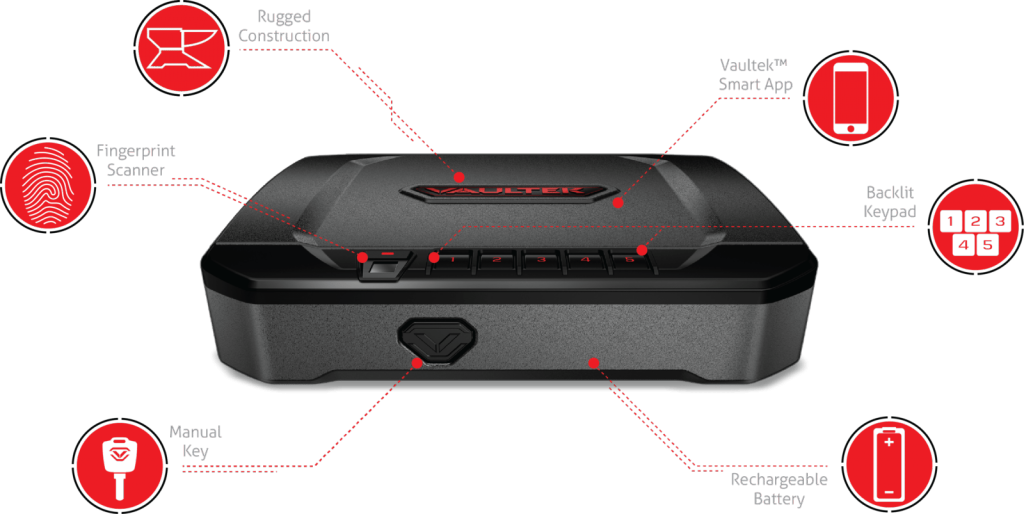 More Information

| | |
| --- | --- |
| SKU | VT20i-DS |
| Product Type | Gun Safe |
| Manufacturer | Vaultek |